---
HAIL & Welcome! Its time to "Create Awesome Magick!™
© Dewberry's Herbal Apothecary LLC™ ~ a Syncretism of Spiritual Earth & Natural Elements, merging together.  Influenced by the fragrant 5 Petal White flower, resembling a PENTAGRAM, and Merging Natures Elements "Earth Air, Fire, Water, Spirit.";  Dewberry's imbues Olde Pagan Folk Lore, Traditional & Modern Witchcraeft, Wortcunning Knowledge & Greencraft Herbs, Splashed with New Age & Eastern Philosophies, Touches of Natural Magick and Olde Worlde Apothecary making.  

Some of the methods used are in the Tradition of European "Olde Worlde Alquemie" and predate Chemistry and current Pharmacopeia.

~ Dewberry's primary focus is Greencraft herbs; Earth Element; offering a wide variety to suit all needs. Using herbs in daily life connects us to the primordial nature within all of us, many of which have all been forgotten. There are Wild-crafted, Wild-harvested, Fair Trade, Earth Kosher, Organic, Certified Organic, and herbs grown without pesticides in their natural environment.  Please check each listing carefully and do not hesitate to ask.  

Every item is handcrafted and hand packaged by myself.
★★ PLEASE READ SHOPPE POLICIES BEFORE MAKING A PURCHASE...   As always if you have any questions then please do not hesitate to message me.   Thank you for Stopping by and as always - Blessed Be!. ★★

HERBCRAFTING:

~ HERBS, HERBS, HERBS!  With an inventory over 300 herbs, teas and spices and in various sizes, the Apothecary lists the size of the bag or container (volume) & weights that each product will ship in.   With many of the herb listing there is now a drop down option for you to Choose the size that will best suit your needs.  Please inquire within if you have questions..

Larger quantities of herbs are also available through a custom request and includes 8oz to pounds.  Currently there is a 10-14 day lead time for herbs 16ozs or more, which does NOT include Holidays or Weekends.  All herbs are packed in Resealable baggies that maintain freshness.  Glass bottles, gift tins and canning jars will soon be available.
 
RITUAL CANDLES, ILLUMINATIONS & HOME ALQUEMIE:

★ ALL CANDLES & ILLUMINARIES are an ORIGINAL CONCEPT DESIGN CREATED BY DEWBERRY'S HERBAL APOTHECARY, LLC™ & offered EXCLUSIVELY through this SHOPPE ★

★ All Candles & Illuminaries are offered with Handpoured/Handcraefted focus intent, made from natural Virgin waxes (no additives), Natural dyes, Premium Absolutes/Essential/Essence oils, and natural cotton wicks. Made to order, each candle is generously scented to throw the aroma in your Sacred Space/Home without even lighting it. ★

★ Candle wax batches vary from time to time so there will be variations in the mottling/special effects and can also have a slight variation in color. Charms, ribbons and adornments may vary if Dewberry's is temporarily out on an item. Every effort will be made to insure that your item arrives to you in the same or BETTER condition than pictured. ★

Never leave burning candles unattended and keep away from children and PETS!  Keep away from anything flammable; Curtains, Rugs, Bedding, Books, Paper, Decorations, etc.  Keep away from drafts, vents, ceiling fans, and ALL air currents.

To keep candles burning correctly, always keep wicks trimmed to 1/8"-1/4" Soy/Paraffin.  This will guarantee proper burning and less unevenness and dripping.  Proper Candle holders should also be used and placed on stable or heat resistant surfaces.

For more information: http://candles.org/fire-safety-candles/candle-safety-rules/

All Candles & Illuminaries are offered with Handpoured/Handcraefted focus intent, made from natural Virgin waxes (no additives), Natural dyes, Premium Absolutes/Essential/Essence oils, and natural cotton wicks. Made to order, each candle is generously scented to throw the aroma in your sacred space without even lighting it.

 OCCULT & WITCHES VENEFICUS:

☣ Serious Magick for the serious Practitioner.  Witches Veneficus is a heavy spiritual endeavor.  Not meant to be taken lightly, these offerings are to illuminate within and guide you on your journey.  Never to be introduced by ways of ingestion, these offerings are made with a concentration safe for skin use.  Please Use responsibly. ☣

Occult items from the "Green Arcanum/ Occult Veneficus" line are designed for the Practitioner to harness the "Balance of Opposites". Dark & Light cannot survive without each other and therefore are 2 sides of the same energy. These wares have a more Left-Handed approach to aid in Rituals of LHP.  Law of Karma still applies; "what one puts out, comes back times three" Do NOT call forth what you cannot banish.  Please take heed when practicing any magick.. ♦
 
ᴥ  Indubitably, magic is one of the subtlest and most difficult of the sciences and arts. There is more opportunity for errors of comprehension, judgment and practice than in any other branch of physics. ~ Aleister Crowley

~ Traditional/Magickal Herbecraeft: The study and practice of herbal magick be it Orthodox or Ominous, is for the practitioner to learn SELF CONTROL; focus with consciousness and the wielding force of the mind, and its subsequent action taken there within. To the Magickal Herbalist, it is not to study and practice its Magick, or to wield its power, but to better understand the flow of the Universe, its nature and more importantly YOURSELF in her place. One must grow an ability to recognize the results of resisting and counteracting the wayz of her Nature, and develop, with time, channeled forms of MINDFUL, SELF discipline. Here lies the mystery of Herbalist's Art. ~

PAGAN/ WITCHCRAEFT/OCCULT RITUAL OILS:

~ Dewberry's also offers an array of oils for Magickal Workings, Greencraft Apothecary, Cologne/Perfumery. Essential Oils offered are for your own personal and special blends.  In particular, Magickal oils are constructed in a very authentic way using Herb-Craft techniques, Natural Ingredients, High Grade Resins, and Premium Essential Oils.  Dewberry's authentic made natural oils are HIGH QUALITY stock oils from very small batches – just a few ounces.  This is to insure the quality and integrity of the Ritual oil.  Herbs, Resins, Botanicals and other natural Curios are used with each recipe, within a Spiritual and Ritual setting.  Each is naturally preserved with Rosemary extract; #1 choice for Traditional Herbalism.  This is advantageous for the stability and shelf life of the product without changing or compromising the Aromatics of the item.

~ Each Oil is craefted with specific intention and focus and can be used to anoint tools for magickal workings or ritual--for instance, candles, amulets, crystals and gemstones, picture of a loved one or statue.  My particular anointing favorite is my own Hands.  "Magick" Oils make a great "Stand In or Substitution" for incense especially for those who are allergy sensitive to smoke, in a time crunch or who simply prefer not to use incense.  Consider them to be as offertory as an incense – the Aromatics will Imbue yourself and your working energy like a prayer, wish or blessing, to the Divinity, Ancestor or Spirit in which you are trying to connect to. They also make good aids in focusing your energy, will or intention on a deep Spiritual or Soulful level much more than words can express.  Each scent is a conduit tapping into your energy and can be more potent than words from a Spell or Ritual Invocation.  These scents can be worn at any time with the same intention and focus as your Spiritual practices.  Dewberry's scents are made from natural Earth ingredients and it is only fitting that when worn on your person you WILL feel the connection!

~ All oils contained within the Shoppe are from a natural extraction process.  Dewberry's has made great strides in United Arab Emirates to acquire some traditional scents within the middle east; where there are some of the Oldest Apothecaries in the Worlde and the quality is undeniable.  Purchases have also be made from Turkey, Israel, and Olde Persia; my reach for high quality oils is ever growing. Ͽ

PERFUMERY & MEN'S COLOGNE/ AROMATIC ALQUEMIE:

~ Natural Aromatic perfumes, colognes and Ritual potion oils all have a concentration of 25%.  This is a standard percentage within the perfume industry.  Unlike synthetic fragrance oils; which have no depth or substance and are all chemical, natural oils give a more robust and profound scent; they are not headache inducing, and each have an immeasurable quality to them. Natural Scent is alcohol, phthalate, paraben, mineral oil, synthetic, cruelty free and is made with natural botanicals and extracts, in a base of Organic Coconut and Avocado/Jojoba Oils. Completely nourishing on the skin.

Pure Natural Fragrance: These essences allow the fusion of fruits, flora, and real plants materials to morph with your chemistry, naturally. Unlike synthetic fragrance oils; which have no depth or substance and are all chemical, natural oils give a more robust and profound scent; they are not headache inducing, and each have an immeasurable quality to them. There are no carriers to prolong the scent such as alcohol, and they nourish and moisturize the skin. Pure and Natural creations ARE the true evolution in Perfumery.

★ At Dewberry's, Premium Natural Cologne Oils have gone through a rigorous "testing" process sometimes taking a metamorphosis of 15 or more times BEFORE settling on the final product. All natural creations have been tested and worn by myself (and testers) to ensure the finest quality both in formation and Alquemie. Created with natural botanical distillations, Aromatherapy and a passion of scent; the wearer can have a more in depth, healing and individualist sensory experience. Each person can tune into natures true bounty and cycles and thus experience a maturation of aroma.★

~ Dewberry's Herbal Apothecary is handcraefted in the "Olde Worlde" tradition of Botanical Herbal Medicine and Eclectic "Materia Medica":  Everything in this Herb Shoppe is Earth friendly and Spirit conscious, ORIGINAL Formulary, and is alcohol, phthalate, paraben, mineral oil and cruelty free. Every item has a purpose, reverence and meaning for Men ♂ and Women ♀.

BATH, BODY & APOTHECARY:

~ Dewberry's Greencraft Apothecary products are handcraefted with many of the herbs offered in the shoppe.  They are carefully infused in rich nourishing butters, luxurious salts, fruit & botanical essences & extracts.  Each formula is deliciously crafted to Nourish the Mind, Replenish the Body and Recharge the Spirit. All recipes are Original from My Herbal Grimoire consisting of the finest premium ingredients.  Please advise: if you have an allergy to bees then please contact the Shoppe for a custom listing. Honey is used in many cosmetics as it is a natural humectant.  

SACRED EARTH OFFERINGS:

☩Gemstones, Crystal, Jewelry and Talismans are Handcraefted and made to order; created in harmony with the Sacred cycles of Mother Nature, which include Historical, Astrological, Moon and Sun Phases. Everything Crafted has attention to detail, with Sacred Herbals, Ritual Intent and Spiritual Energy and some Curios. All items here are handcraefted to reverberate with magical energy and potency ☩

~ Dewberry's offerings are Unique and one-of-a-kind, not sold wholesale or retail outlets for resale, and is exclusively available here on my Etsy Shoppe.  Special requests are always welcomed.
Established in the Olde Colony of Massachusetts in 2009 & online since 2010, Dewberry's is a small home grown business ran by one Witch.  Each item is Handmade, giving you a unique, personalized and pampered experience left behind by many large stores or high profiled companies.  NOTHING is done by machine, mass produced or premade.  The entire shoppe, its photography, writings, concept designs and curated items are ran solely by one "Witch" and that is me!!!

★★ Please note:  I reserve the right to decline sales, special requests such as an expedited order/shipping or any Proprietary information henceforth.   I make every effort to list ingredients for you, the customer, to help you make an educated purchase.  Listing ingredients in order of their concentration is an industry standard and NOT required by LAW.  If you do not know of or how to use and herb, product or ingredient then by all means please do some research.  It is important that YOU, the consumer, should take the initiative to look it up yourself.

★★ As a Shoppe on this forum, Dewberry's is bound by the policies here within.  Dewberry's cannot recommend treatments, cures or give ANY Medical advice. Any product/Ritual is NOT considered nor deemed as medical treatments and by law, Dewberry's declares that the purchases made is strictly for entertainment purposes ONLY.  If you need assistance, then I would recommend a licensed Health Care Or Medical Professional or for immediate information, research online sources or any other reputable means to find and educate yourself. ★★
Blessed Be ~ օրհնված է
Rachel/ Sole Proprietor
© Dewberry's Herbal Apothecary LLC ™ ~ "Reflecting Your Inner Possibilities"

★ Dewberry's cannot be responsible for MISUSE or guarantee any outcome of its product(s) or any Ritual(s). It is strictly for Home/Ritual/Curio/Entertainment purposes ONLY.  Some items contain materials and ingredients that could be potentially hazardous to you; made in the "Olde Ways Tradition" of Witchcraft itself.  If you choose to buy these items, Dewberry's cannot take any responsibility, nor shall not be held responsible for any injuries, misuse, damages, or losses resulting from the use of products.  Items within are created to aid YOU in your Personal/Spiritual Path and are sold "AS IS" or "AS AVAILABLE". Dewberry's Herbal Apothecary, LLC WILL NOT BE HELD LIABLE FOR ANY DAMAGES OF ANY KIND ARISING FROM THE USE OF ANY Product(s) or Service(s), made available to YOU the consumer. Your purchase(s) from this shoppe signifies and is the acceptance of these terms; is at YOUR sole risk and all Liability is released here within. ★
~~~~~~~~~~~~~~~~~~~~~~~~~~~~~~~~~~~~~~~~~~~~~~~~
© Dewberry's Herbal Apothecary™ is an LLC (Limited Liability Company), Trademarked and Copy written. All Images, Graphics, Design(s) & Concepts, Wording, Slogan(s), Product Name(s),Product Lines, Trade Dress, Trade Name(s),Trademark(s), Created Product(s), Artwork, Intellectual & Digital Property, (Unless Otherwise Noted), Code, Links, Distribution & Subsidiaries are not to be reproduced in part or in whole, manipulated, altered or copied in anyway. Any item or content within the Shoppe may not be used in connection with any other product(s) or service(s) that isn't Dewberry's. It is a violation of Laws and is strictly forbidden. ALL CONTENTS belong to the Company (Dewberry's Herbal Apothecary, LLC) and its Owner. ALL INFRINGEMENT IS PROSECUTABLE TO THE FULL EXTENT PERMISSIBLE BY APPLICABLE LAW and in accordance with general U.S. Intellectual Property Laws and the Digital Millennium Copyright Act. All Rights Reserved. © 2020
---
WITCHES SUPREME POWER "Olde Worlde" Black Magick Candle For Hecate, Harness Power, Dark Moon Rites
★★ Dewberry's Herbal Apothecary, LLC™ ~ "Reflecting Your Inner Possibilities"™ With A Syncretism Of Pagan Herbcraefting ★★  Olde Worlde Black Magick SUPREME pillar is the essence of the Sacred Feminine, Dark arts, or the hidden within oneself. Black candles are traditionally used during Samhain/Halloween however they are often useful during dark moon...
---
View Product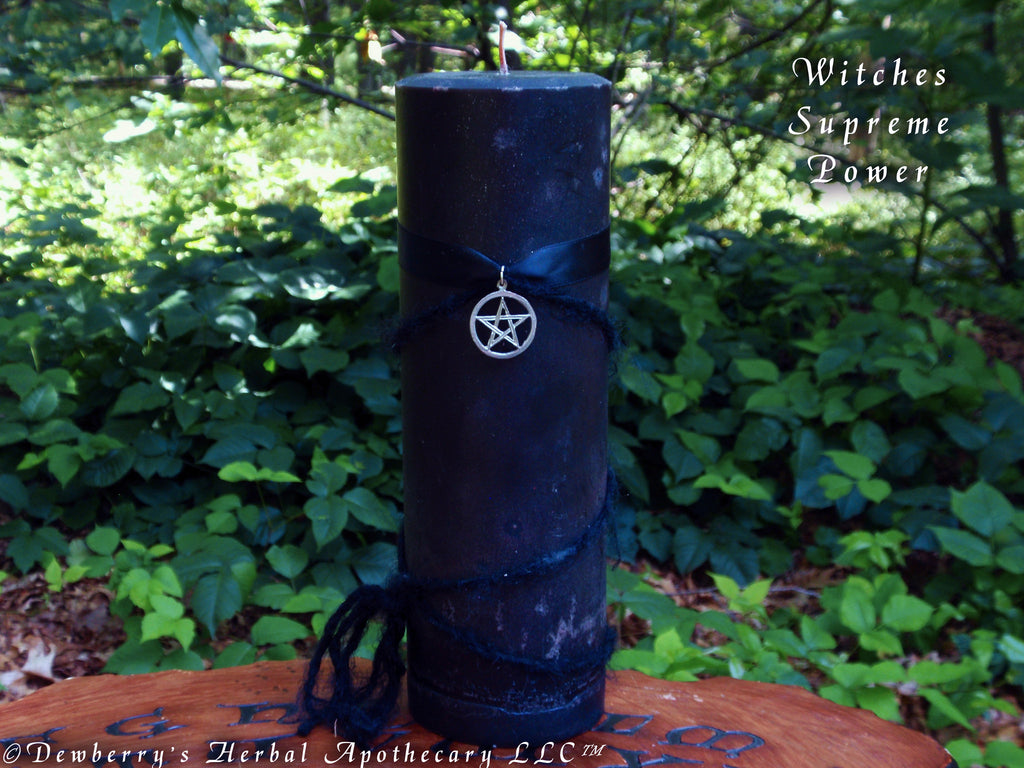 ---
Candle Cupboard-Devotional Illuminaries-Home Alquemie-Scented Home